M.s.C. Axel Rengstorf, Executive Director
Axel Rengstorf is the founder and executive Director of BlueBox Security.
Besides his activities he is further working as a Penetrationtester. He has studied Cpmputer Science majoring in Cryptography and Telemetrics at the Karlsruhe Institute of Technology (KIT) nd has achieved the Offensive Security Certified Expert (OSCE) and Offensive Security Certified Professional (OSCP) exams. Along with his 15 years of experiences in various Penetration Testing projects his main interests are VoIP, Mobile Applications, Webapplication Audits and Source Code Reviews. He also has various experiences in Reverse Engineering of Linux/Windows and Embedded Applications.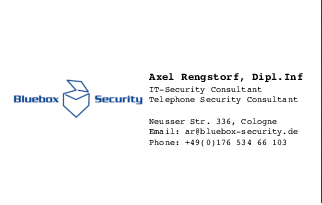 CV.PDF
PGP-KEY